Commercial quality pull-out pantry units.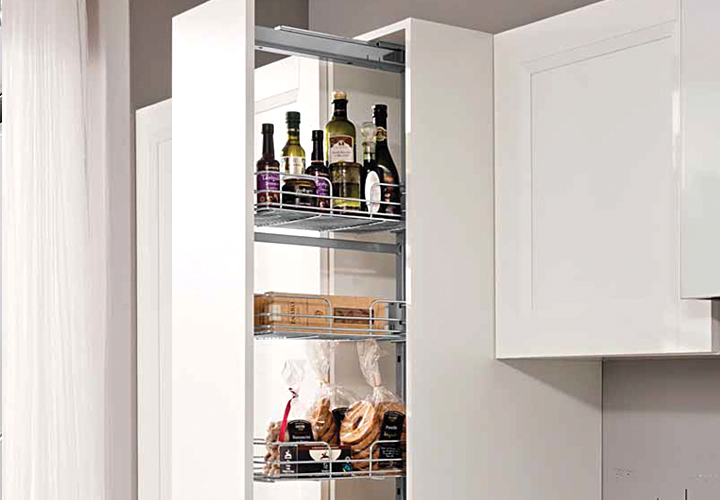 Vibo Wire Pantry Pull-Out Units
The Vibo Wire Pantry Pull-Out Unit is an economical product featuring heavy duty wire with the highest quality chrome plating. We offer this unit at highly competitive pricing with flexible delivery options to suit large commercial projects. Contact us to discuss your specific requirements and deadlines and we can provide you with a quotation. Parts can be ordered separately and we also offer a wide range of other pantry options on request.
Small size unit: 1460 – 1900mm height (features 4 baskets)
Large size unit: 1760 – 2200mm height (features 5 baskets)
Three cabinet widths available: 300, 400 & 500mm (overall)
Heavy duty wire with highest quality chrome plating
Easy to install
120kg load capacity
Soft closing feature
Grey metal frame
Quality, economical solution
Suits 300, 400 & 500mm Cabinet Width (Overall)
---
Codes:
VBPPOWS30 300mm Small
VBPPOWS40 400mm Small
VBPPOWS50 500mm Small
VBPPOW30 300mm Large
VBPPOW40 400mm Large
VBPPOW50 500mm Large

300mm Small Kit
W mm
D mm
H mm
Weight kg
# of Baskets
Baskets
240
414
106.50
1.89
4 included
Frame
95
497
1460 - 1900
11
Mounting Brackets
250
40
45
0.42
400mm Small Kit
W mm
D mm
H mm
Weight kg
# of Baskets
Baskets
340
414
106.50
2.31
4 included
Frame
95
497
1460 - 1900
11
Mounting Brackets
350
40
45
0.49
500mm Small Kit
W mm
D mm
H mm
Weight kg
# of Baskets
Baskets
440
414
106.50
2.67
4 included
Frame
95
497
1460 - 1900
11
Mounting Brackets
450
40
45
0.57
300mm Large Kit
W mm
D mm
H mm
Weight kg
# of Baskets
Baskets
240
414
106.50
1.89
5 included
Frame
95
497
1760 - 2200
12
Mounting Brackets
250
40
45
0.42
400mm Large Kit
W mm
D mm
H mm
Weight kg
# of Baskets
Baskets
340
414
106.50
2.31
5 included
Frame
95
497
1760 - 2200
12
Mounting Brackets
350
40
45
0.49
500mm Large Kit
W mm
D mm
H mm
Weight kg
# of Baskets
Baskets
440
414
106.50
2.67
5 included
Frame
95
497
1760 - 2200
12
Mounting Brackets
450
40
45
0.57